Sheep & Wool Industry Tour to P.R.C. China
The wool processing industry of China has been burgeoning since China's entry into the World Trade Organization, and the demand for high-quality wool will undoubtedly skyrocket. Although currently we can compete with Australia in terms of quality of the fine-wool sheep, we still lag far behind in quantity. In next five years, the focus of our scientists' research will be on developing two key labs: the animal gene project lab and embryo transplant lab. They will improve the quantity and competitiveness of Chinese merino fine-wool sheep in the international market.
Day 1 --Beijing
Arrive in Beijing and transferring to our hotel and free time to be at leisure for you after long flight and may go for a stroll in the area around the hotel or we can have an easier city tour if you like. Overnight 4 star hotel. LD.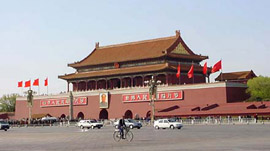 Day 2 --Beijing
As our introduction to the imperial city we take a stroll in Tiananmen Square, bordered by the Great Hall of the People. Then, we walk to the Forbidden City, the complex of imperial palace, which were home to the Emperors for over 500 years. Grand halls and courts gradually give way to more intimate domestic quarters, giving an insight into the pampered isolation of the emperors. After lunch, before we conclude our Hutong tours to take a look at old Beijing with a rickshaw tour through the old Hutong district, we will enjoy a relaxing cruise on the Houhai Lake with traditional Chinese musical accompaniment. BLD. Peking Duck Dinner. BLD
Day 3 --Beijing
Today is the highlight of our China tour, the climbing of the Great Wall of China, which was first built in the Warring States period (475-221BC) as a series of earthworks erected by individual kingdoms as a defence against each other as well as from invasions from the north. The present day wall was left from the Ming dynasty. After lunch we will drive to visit a famous Cattle Farm in the suburban county and have a meeting with local government and experts from the farm. Be prepare surprise, we will taste High Quality Beef Hot Pot (each one has an individual hot pot) Dinner supplied by the farm. In the evening we will have our first experience to take Chinese first class Express Train to Inner Mongolia, K89 21:00pm / 07:20am (shared 1st Class 4 berth soft sleepers train compartment)--Overnight in the Train. BLD
Day 4. --Beijing / Hohhot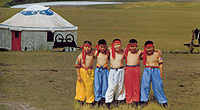 Arrive at Hohhot at 7:10am, the capital city of Inner Mongolia. Upon Arrival, transferring to our hotel for breakfast and check in for a short time rest in your comfortable room. Then we drive for about one and half hours to the beautiful grassland Xilamuren, 87km north of Hohhot, idyllic pasturelands to visit two different sheep farms. One of which is sheep raised in fence and another one is to herd sheep freely in natural grassland. Then we will have typical Mongolian lunch roasted mutton in local richest and cleanest family and to understand the way of their life in the farms. After lunch if you like we can enjoy the traditional folk Mongolian dance and singing, wrestling and horse race. About 4 pm we drive back to hotel. Overnight 4 star hotel. BLD
Day 5 --Hohhot / Xian
This morning, we will visit the famous Dazhao Temple, which was built in 1580 in Ming dynasty. It is one of the biggest also the best-preserved temple in Hohhot. Then visit the Zhao-Jun tomb. Zhaojun Tomb is one of the beautiful scenes in ancient times. In fact this is not the reason it becomes famous, but because of the lady Wang Zhaojun, one of the four most distinguished beauties of ancient China, who was married to the Emperor of the Huns to maintain the peaceful relationship between China and the Huns. After visit we drive back to our hotel have a short rest and then check out for the lunch. In the afternoon we will visit a big sheep wool processing factory and take a visit of the Inner Mongolia Animal Husbandry Research Institute to have a lecture of Experts on Crossbreeding of Cows and Sheep and their latest achievements in this field. After dinner we take HU 7888 21:15/22:30pm fly to Xian. Overnight 4 star hotel. BLD
Day 6 --Xian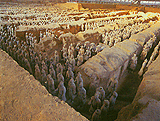 Xi'an was the cradle of ancient Chinese civilization dating back to 4000 BC, and the capital of China for 11 dynasties from 1046BC to 907AD. It is from here that caravans started on the Silk Road to Europe, changing the Western world forever. Morning visit to the Museum of the Qin Terracotta Warriors and Horses. This is one of the greatest archaeological discoveries in the world with three exhibition halls, the largest of which is 180 meters by 60 meters, housing the continuing excavation of an army of 8,000 terra-cotta soldiers and horses that guard the tomb of Qin Shihuang, the first emperor of the unified China. It is a stunning exhibition of ancient artifacts that is well laid out and easy to view. After lunch we enjoy our tour to Big Goose pagoda and City Wall. Tang Dynasty Show with dinner. Overnight 4 star hotel. BLD
Day 7 --Xian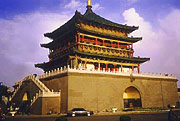 We drive for about two hours to Shanxi Agricultural High-tech Industries Demonstration zone, a state-level agricultural high-tech demonstration zone, covering an area of 94sq km with population of 140 thousand. This Zone was set up in 1997, especially for demonstrating the best agri-achievements and providing technical and personal support to the development of China's agriculture,which carries out the management pattern of "sientist+corporation+farmers", and depend on the small group to develop a large-scale breeding and reproducing method in order to help and encourage thousands of peasants to be comparatively well-off. There are 110 Laboratories with 5000 science and educational talents of agriculture in more than 70 subjects. Researches on wheat breeding, dry farming, plant protection, poultry procreation incretion and embryo engineering take leading position in China. Technologies on animal clone, stem cell and crossbreed wheat rank in front of the world. We will visit the Embryo Engineering Laboratory of Sheep, cattle and goats and follows a Technical meeting with local agricultural experts, officials, marketing people and farmers. Lunch will be arranged in local 3 or 4 star hotel. In the afternoon on the way back to the hotel we will visit some peasants' villages and families. Overnight 4 star hotel in Xian. BLD
Day 8 --Xian / Urumqi
An early start this morning. Following breakfast in the hotel, we transfer to the airport for the flight to Urumqi. Morning arrival in the modern industrial metropolis Urumqi literally means "beautiful pasture", the capital city of Xinjiang Uygur Autonomous Region and the most 'inland' city in the world, which lies 1,397 miles away from the nearest ocean! With a population of two million gaily-dressed ethnic inhabitants, the city is strategically important in the ancient Silk Road that assembles the cultures of both eastern and western countries. On arrival we are transfer to our hotel to check in. After lunch, we meet with the Xinjiang Bureau of Animal Products for discussions. Overnight 4 star hotel. BLD
Day 9 -- Urumqi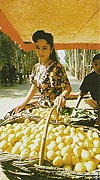 After breakfast we depart by coach for Shihezi, for a day of visit. The city is honored as the manmade oasis in the desert as well the major base of breeding the Chinese merino super-fine-wool sheep and industrializing the fine-wool sheep in China. The high-quality A, B and C series of fine-wool sheep are now raised on 80 percent of the Xinjiang's pasturelands, the choice of local herders seeking to improve profitability. After lunch, we visit a sheep farm to see shearing and wool preparation. Besides the sheep, Shihezi has become an important center for the production of grain and cotton. Notable among these crops is Yinli Cotton, which enjoys a good reputation both at home and abroad. The output of cotton from the oasis city accounts for one ninth of the total for Xinjiang as a whole. A national production facility for natural-colored cotton has been set up in this region. In the late afternoon reboard the coach to return to the hotel for including dinner. Overnight 4 star hotel. BLD
Day 10 -- Urumqi
Another day trip today, this time depart after breakfast for Nanshan Livestock Farm. The pasture is a fertile place with charming mountains around. Springs flowing in the deep valleys, horses running on the green field and you can see livestock scatters here and there around this beautiful and clean natural pasture land extending far to its numerous long valleys. Towards the south of Urumqi City, the Nanshan Pasture is located in Kelawucheng Mountain, a branch of north Heavenly Mountain range. Among the mountains, White Willow Ditch is a unique, graceful peak standing side by side with snow on tops all year round. Up on arrival, we take part in a meeting with Purchasing Station for wool. Enjoy lunch, and then visit a local sheep farm to shearing before returning to the hotel in Urumqi for dinner and overnight. BLD
Day 11 -- Urumqi
Enjoy breakfast in the hotel, before departing in our coach for a look at Heavenly Lake, a volcanic lake is nested in the middle of Bogda Peak, 110 km east of Urumqi, covering 4.9 sp km, this crescent-shaped lake deserves its name, Pearl of Heavenly Mountain (Tianshan Mountain). With melted snow as its source, the lake enjoys crystal water. When the snow peaks and the clouds are mirrored in the glittering water, it is so extremely beautiful presenting you a spectacular view. After lunch, in the early afternoon we depart and return to Urumqi for a visit to the Xinjiang Museum. Freshen up back at the hotel before dinner. BLD
Day 12 -- Urumqi / Shanghai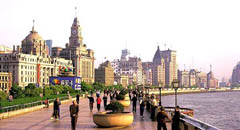 After breakfast depart for a visit to a Sheep Wool Carpet Processing Mill. Return to the hotel and check out and transfer to the airport for our flight to Shanghai, which is China's largest city having a population of approximately 14 million people. On arrival transfer to our hotel and before dinner, there will be time for you to have a wander around at leisure or maybe do a little shopping along the Nanjing Road, one of the busiest and biggest shopping street in China. Evening Optional: Huangpu River Cruise. Overnight 4 star hotel. BLD
Day 13 --Shanghai
This morning we go to the Shanghai Old Town, with its history dating back some 400 years ago and people love this area due to the variety of commodities and shops available. We will visit the Yu Garden, an island of tranquility amid the hustle and bustle of the city, covering less than 5 acres contain over 30 pavilions and have numerous corridors, small halls, lotus ponds, bridges and winding paths which are characteristic of the architectural style of the Ming dynasty. It was a private garden with a history of 400 years. Outside the Yu Garden there is very interesting market, the Yuyuan Bazaar with every thing that you can think of for sale at low price. Then we visit the waterfront area of the city known as the Bund where we shall have a short walk along the riverside. The river is the main shipping artery for the whole of southern China and the main form of transport for goods to and from the interior of the country and is China's largest foreign trade port. After lunch we make a tour to the Pudong New Developed Area, where we tour the riverside park along the Huangpu River appreciating the third highest TV Tower in the world as well as the Jinmao Tower, the third tallest building in the world. This evening we enjoy performance of Chinese Acrobats Show known for their amazing skill and agility. Overnight Shanghai. BLD
Day 14 --Shanghai / Suzhou / Shanghai


This morning after breakfast, we take one and half hours coach to Suzhou, the city with over 2,500 years of history and regarded by Marco Polo as the "Venice of the Orient". Suzhou is also known as the Silk Capital of the World as well as" Paradise in Heaven". While driving on the way, we can enjoy both beautiful farmland and landscape. En-route we should stop off at the China Wool Trade Centre which was built in 1994 covering the area of 8000 square meters with all kinds of more then 600 wool trading and processing enterprises. It is becoming the biggest wool supplying and demanding centre and also the centre of wool information transmission in Eastern China. Meanwhile, more and more business people come from America, Australia, New Zealand, Japan, France and England to seek business from here. Lunch will be taken in Suzhou, Then follows a visit of the Serging Waves Garden, the oldest existing garden in the city and one of the four most famous classical gardens in China built in Song Dynasty 900 years ago, cruising on canal to view people's daily life for one hour. We then make a short visit to a silk factory to see how silk is produced from the silk worms and made into the finishes articles. After dinner we drive back to Shanghai for overnight. BLD
Day 15 --Shanghai / Home
Transfer to the airport to board your flight to your sweet home. B.