_Wine Tour To China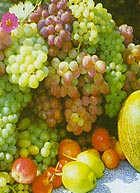 ---History of Grape Wine in China
Grape cultivation and wine making in China are not new, having being established before the Han Dynasty (206BC - 220AD). Indeed in 138BC, Emperor Han-wu sent an envoy to the western part of China (Xinjiang region) who reported back "the Wan people made wine with grapes, drank wine on a regular basis, indeed wine was their most popular alcoholic drink. The rich people stored more than ten thousand `dan' (about 300,000 liters) of wine which could be kept for about ten years."
The envoy learned the techniques of planting grapes and winemaking, which he brought back to the Emperor and soon the growing of grapes and winemaking for the Imperial Palace at Xian in Shaanxi province was developed on a large scale.
The next period of interest in wine was during the Yuan Dynasty (1271-1368). The rulers, the Mongols, of the Yuan Dynasty were very fond of wine, and stipulated that people must use wine when they offered a sacrifice at a temple. The scale of wine production in China reached its highest point during the Yuan dynasty. The traditional wine center of the western region of Xinjiang was supplemented by production in Taiyuan, Shanxi province and Nanjing in Jiangsu province.
----Wine Development Today in China
¡¤ GREAT WALL: Possibly China's best-known brand, located in Zhangjiakou, in Hebei province, owning a 750,000-m2 vineyard at Shacheng. Total production is about 50,000 tons per annum, spread amongst seven different types. Of this about 1,500 tons are exported annually - just under 50% of China's total wine exports. Established in 1983.
¡¤ ZHANGYU: Zhangyu is the largest wine manufacturer of Asia, with employees of 4,000, total assets of 2.29 billion RMB, annual capacity of 80,000 ton. Products are exported to Malaysia, America, Holland, Belgium, Korea, Thailand, Singapore, Hong Kong and elsewhere.
¡¤ HUADONG: Established in 1985, has a total of 5 vineyards of 10 million m2 in Shandong, close to Qingdao. Annual production capacity is 60,000 ton, specializing in white wine varieties, with a very good Chardonnay.
Day 1 - Beijing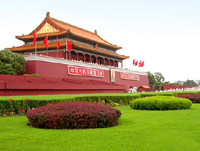 Arrival into Beijing in the morning. Transfer from Airport to Hotel. After lunch, we start our tour from Tiananmen Square, the world largest square, bordered by the Great Hall of the People, Mao's Mausoleum and the National Museum of China. This will be followed with a walk to the Forbidden City, the complex of imperial palace that was home to the Chinese Emperors for over 500 years. Sited on 72 hectares of land with 9000 rooms covering a floor space of 150,000 square meters. Grand halls and courts gradually give way to more intimate domestic quarters, giving an insight into the pampered isolation of the emperors. Evening Beijing Acrobatic Show. Overnight Jianguo Hotel.

Day 2 - Beijing
We drive 2 and half hours to a suburban county, visiting a Chinese famous Wine Company Ltd. It is a Sino-foreign joint venture, which specializes in manufacturing and marketing various types of wine. The company was set up in 1983 and has registered capital of US$2.3 million and fixer assets of US$10 million. The facilities have an annual capacity of 10,000 tons of products. The company uses modern wine producing equipment imported from France, Germany and Italy. It has 1375 twenty-ton storage vessels capable of holding 30,000 tons. The company itself has 70.3 hectare of vineyards where over ten different world famous varieties of wine grapes are grown, each of which can be used to produce single variety, high quality wines. The company is in an area which boasts an abundant supply of high quality Dragon Eye grapes, representing a good supply of raw material for use in wine making. Evening Peking Duck banquet. Overnight Beijing

Day 3 - Beijing / Yantai
Today should be one of the highlights of China tour, No visit to China would be complete without seeing the Great Wall. The climbing of the Great Wall of China which was first built in the Warring States period (475-221 BC) as a series of earthworks erected by individual kingdoms as a defense against each other as well as from invasions from the north. Its main objective was to keep out Genghis Khan and the Mongolian hordes. This proved only partially successful. The present day wall was left from the Ming dynasty and it represents one of the wonders of the world. After this excursion, we take evening train (Soft Sleeper) to Yantai. Shandong Province. Overnight in the Train.

Day 4 - Yantai
Arrive in Yantai at 7:00am, we first check in our 4 star hotel and have a breakfast. At 10:00am, we drive to visit Zhangyu Wine Company. Yantai is the birthplace of China's modern wine industry. Oversees compatriot Zhang Bishi established this famous Wine Company as far back as 1892 in the city, and in 1992, Zhangyu's 100th anniversary, the city was named by the International Wine Organization as "International Grape and Wine City." Yantai's Zhangyu, Beijing's Great Wall and Tianjin's Dynasty - the three stars in China's red wine market - are wineries with an output value exceeding Rmb100 million (HK$94.3 million). Together they control 50.6% of the market. Their sales and profits make up 61.9% of the total industry, with the remaining market largely shared by newly emerging wineries. April 2004 statistics make Zhangyu the market leader, followed by Great Wall and Dynasty. After visiting, we will have a technical interview with company's experts to exchange views and followed by an easy city tour. Overnight Yantai

Day 5 - Yantai / Qingdao (Tsingdao)
After breakfast, we take a bus 3hours to Qingdao, an old port city situated on the Southern coast of Shandong, is a quaint and popular spot for sun seekers alike, and Qingdao Beer is famous all over China. With a total area of 10.645 square km and a total population of 6.95 million (2.27 million in the urban district), Qingdao is in fact one of China's most important economic cities and is the nation's fourth largest port. Besides, the German influence in Qingdao extends beyond impressive architecture to many other areas; from town planning, creating lush wooded avenues and some of China's best parks, to local customs. Of particular interest to many of her visitors is, of course, the Tsingdao beer, produced locally from the pure Laoshan water, and whose origins lie in the first brewery, established in 1903. For those so inclined, the Beer festival (August 12-26) is a great time to visit. We will visit the another famous Winery, the first joint venture in China to produce varietal dry white and red wines in accordance with international beverage standards. This operation is at the leading edge of China's plan to become a wine-producing country. Established in 1985, it produces the only varietal vintage wine in the country, and the only wine to win medals in European competitions and its wine is found across the country in all the finest international and luxury hotels and are qualified to use the Chinese "Green-Food" mark. Overnight Qingdao.

Day 6 - Qingdao / Xian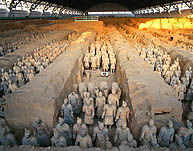 In this morning we fly to Xian. After arrival, we have a city tour including visit of the old City Wall. Be preparing for some surprises. This afternoon one of the highlights of the tour is a visit to the buried army of Emperor Qin Shi Huang. This 2180-year-old terracotta army of more than 800 soldiers was discovered in 1974. On the way, we visit a peasant village where we talk to some farming families about their enterprises, growing grain crops, kiwifruit and pomegranate orchard and visit their homes. See Tang Dynasty show with dinner in the evening. Overnight in Xian

Day 7 - Xian
After breakfast, we drive 2 and half hours to rural County to visit one of the oldest Chinese winery, It was founded in 1911 because of a suggestion and help from an Italian Missionary when he passed by here and found the local high quality grapes. Now it has a 17,000-ton capacity, fixed assets of US$1.9 million, total assets of US$ 3.6 million and a staff of 400. Some wine producing equipment imported from France and Argentina since 1990s. Its leading products include 20 wines of high, medium and low grades, of which Tianyun dry red wine and the dry white wine are well sold all over China. The company has 1250 hectare of vineyards covering 8 townships and 59 villages, with total production of different grapes 3 million KG. After visiting we have a meeting with local officials and experts from the company and vineyards. In the afternoon we drive back to Xian, on the way, we may visit some other crops farm. Overnight Xian

Day 8 - Xian / Shanghai
Take morning flight to Shanghai. A city of 12 million people and an important center for trade and industry in China. On arrival a city sights tour including Nanjing Road, one of the busiest and biggest shopping street in China. Stroll on the Bund, Shanghai's famous waterfront. We will visit the Yu Garden, which is characteristic of the architectural style of the Ming dynasty. It is a private garden in the southeast of Shanghai, with a history of 400 years. The garden features more than 30 halls and pavilions. Outside the Yu Garden there is very interesting market with every thing that you can think of for sale at low price. Overnight Shanghai.

Day 9 Shanghai / Back home
Our Quotation includes:
1. Two domestic flight tickets and airport taxes, one train ticket
2. Air-conditioned private deluxe transportation within the tour
3. Accommodation at four-star international standard Hotel with all western buffet breakfast in the hotels. All meals as specified in the itinerary
4. Comprehensive sightseeing, visits as shown in the itinerary, including English-speaking national guide, local English-speaking guides in each city and all entrance fees
5. Performances tickets as listed in the itinerary
6. All technical visits