_ Potato Tour to China
Objectives
*To participate in the World Potato Congress and network with growers and industry personnel from around the world.
*To learn about the potato industry in China - production, processing, marketing - and the present state of the industry and where it is heading.
*To gain an understanding of China's potato markets and it's marketing objectives.
*To experience the culture and history of China.
Day 1 Auckland/Hong Kong
Depart Auckland on Cathay Pacific CX 108 at 12.50pm arriving in Hong Kong at 8.30pm. Transfer to the Regal Airport Hotel.
Overnight Hong Kong L D
Day 2 Hong Kong/Kunming
Depart Hong Kong on Dragonair KA 760 at 12.15pm. Arrive Kunming at 2.35pm and transfer to your hotel. Registration for the Congress at the Kunming International Trade Centre followed by Reception.
Overnight Kunming B L D

Day 3 Kunming
World Potato Congress
Overnight Kunming B L D
Day 4 Kunming
World Potato Congress
Overnight Kunming B L D
Day 5 Kunming
World Potato Congress
Overnight Kunming B L D
Day 6 Kunming
World Potato Congress
Overnight Kunming B L D
Day 7 Kunming/Xian
Early afternoon fly to Xian and drive to rural County to visit potato growers.
Overnight Xian B L D

Day 8 March Xian
Visit the Banpo Museum, the sight of a 5000 year old Neolithic village followed by one of the highlights of the tour - a visit to the buried army of Emperor Qin Shi Huang. This 2180 year old terracotta army of more than 800 soldiers was discovered in 1974. Return to Xian and explore the markets. Be prepared for some surprises. See the spectacular Tang Dynasty show in the evening.
Overnight Xian B L D
Day 9 Xian/Harbin/Jagdaqi
This afternoon fly to Harbin which is the capital city of Heilongjiang Province. It has a lot of European architecture as at the end of the 19th century half a million residents were from Europe. After a city sights tour board the train for the overnight journey to Jagdaqi.
Overnight Train (Soft sleeper) B L D
Day 10 Jagdaqi/Harbin
After arriving in Jagdaqi at 6.59am (trains in China are invariably on time down to the minute) stop at a local hotel for breakfast and a shower and then visit potato growers and meet with local officials to discuss the industry. Jagdaqi is one of the important potato growing areas in Inner Mongolia. In the evening board the train for the return journey to Harbin.
Overnight Train (Soft sleeper) B L D
Day 11 Harbin
Arrive Harbin at 8.40am. Check in to hotel for shower and breakfast. Visit Harbin University to discuss potato research and to meet with local experts on potato production and marketing.
Ovenight Harbin B L D
Day 12 Harbin/Beijing
This morning fly to Beijing. In the afternoon visit a potato processing factory. This evening a Peking Duck banquet. After dinner explore the night food markets where you can buy just about anything you can think of to eat.
Overnight Beijing B L D
Day 13 Beijing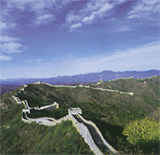 No visit to China would be complete without seeing the Great Wall. The original wall was built over 2000 years ago and stretched over 6000km. Its main objective was to keep out Genghis Khan and the Mongolian hordes. This proved only partially successful. Today it represents one of the wonders of the world. Visit the Forbidden City, home of the Ming and Qing dynasty emperors. Sited on 72 hectares of land with 9000 rooms covering a floor space of 150,000 square meters. In the evening you are entertained with a spectacular acrobatic show.
Overnight Beijing B L D
Day 14 Beijing/Hong Kong/Auckland
Time for a visit to Xiadan Street which is close to your hotel for some shopping before transferring to Beijing airport. 1.40pm depart on KA 991 for Hong Kong arriving 5.15pm to connect with your flight to Auckland. CX 107 departs at 8.25pm.
Overnight flight B L D
Day 15 Arrive Auckland
Arrive Auckland at 11.15am. B
B = Breakfast L = Lunch D = Dinner