_ DEER FARMERS TOUR TO CHINA

Day 1
Auckland/Hong Kong
Depart Auckland early afternoon flying Cathay Pacific arriving in Hong Kong this evening.
Overnight Hong Kong
Day 2
Hong Kong
The exciting city of Hong Kong. A chance to relax, try the shopping and soak up the sights.
Overnight Hong Kong
Day 3
Hong Kong/Shanghai
Fly Hong Kong to Shanghai arriving mid morning. China's largest city with a population of 12 million and an important centre for trade and industry. City sights tour including Nanjing Road, a silk carpet factory and a walk along the Bund, Shanghai's famous waterfront.
Overnight Shanghai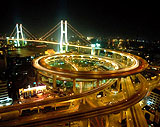 Day 4
Shanghai
Today we travel by coach for an hour from Shanghai to Suzhou, China's "Venice of the East" and one of its oldest cities. An attractive city with an extensive network of canals it is well known for its beautiful gardens. Visits include a garden, silkworm factory and embroidery factory. On the way back to Shanghai we visit a fish farm. This evening we are entertained with a spectacular acrobatic show.
Overnight Shanghai
Day 5
Shanghai/Xian
This morning we visit Yu Fo Temple - a famous Buddhist temple and then a Children's Palace. We fly this afternoon from Shanghai to Xian a city of great historical and cultural interest and the capital of China for 1087 years (11 dynasties). We visit a farm for a fascinating insight into how Chinese farmers live and how they grow their crops before transferring to our hotel.
Overnight Xian
Day 6


Xian
One of the highlights of our tour is the visit to the buried army of the Emperor Qin Shi Huang. This 2180 year old terracotta army of more than 8000 soldiers which was discovered in 1974 is an awe inspiring sight. We also see the tomb of the emperor who lived from 259 to 210 BC. Other visits include: the Big Wild Goose Pagoda, the City Wall (12 metres high) which follows the boundaries of the Tang Imperial City and local markets. This evening an entertaining look at Chinese culture with the Tang Dynasty Show.
Overnight Xian
Day 7
Xian/Xining
Today, arrangements include a visit to the Shaanxi Provincial Museum which is sited in an old Confucian temple and the Banpo Museum (the archaeological site of a 6000 year old neolithic village). Late this afternoon we take a train (soft sleeper) to Xining.
Overnight Train.
Day 8
Xian/Xining
Our journey takes us alongside the Yellow River through Langzhou arriving in Xining the main destination of our tour, early afternoon. We visit Xining City and local sights this afternoon. Among these is the Taer Lamasery which is famous as a sacred place of Tibetan Buddhism and birthplace of the founder of the yellow sect. Xining is the capital of Qinghai Province on the Qinghai - Tibet Plateau (known as the Roof of the World).
Overnight Xining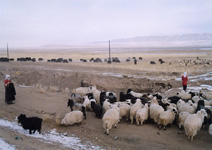 Day 9
Xining
Today we travel by coach over the Sun and Moon Mountain Pass (the old border with Tibet) to Qinghai Lake which is China's largest salt water lake 3196 metres above sea level. We explore this fascinating area, stopping on the roadside to talk to local farmers and we visit nomads grazing their sheep and yaks.
Overnight Xining
Day 10
Xining
Today we visit a beautiful valley about 100 km from Xining. We have a picnic lunch on a deer farm where we see Malu deer, White Lipped deer and Sika deer and we stop to talk to local villagers about life and farming in this remote area.
Overnight Xining
Day 11
Xining/Beijing
This morning we travel by coach to Lanzhou airport stopping at a roadside restaurant for lunch en route. This afternoon we fly to Beijing, a city of 13 million people, 8 million bicycles and 1.3 million cars.
Overnight Beijing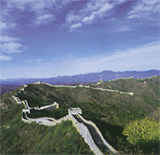 Day 12
Beijing
No visit to China would be complete without seeing the Great Wall. Today we visit this incredible structure which is 6350 km long. We stop for lunch on our way back to Beijing and this afternoon we go to Xiadan Street to look for bargains in the shops. After dinner walk through the night food markets where you can buy just about anything you can think of to eat as well as things you wouldn't think were edible.
Overnight Beijing
Day 13
Beijing
We travel by coach today to Daxin County where we visit the Milu Ecological Research Centre. This is the home of the rare Pere David species of deer. Other species of deer are also held here. This afternoon we enjoy many of the famous sights of Beijing including Tiananmen Square - the world's largest square and the Imperial Palace (Forbidden City) home of the Ming and Qing dynasty emperors. Sited on 72 hectares of land with 9000 rooms covering a floor space of 150,000 square metres. Our final dinner in China is a Peking Duck banquet.
Overnight Beijing
Day 14
Beijing/Hong Kong
A relaxed start this morning before we travel to Beijing airport in time for our early afternoon flight. We arrive in Hong Kong mid afternoon. Flight for Auckland departs this evening.
Overnight flight
Day 15
Hong Kong/Auckland
Arrive Auckland early afternoon. Connecting flights to Wellington and Christchurch.