Dairy Industry & Exhibition tour to China
April 21st -- April 30th 2007
20 April - Departure from your country
21 April - Arrive at Shanghai
Arrive in Shanghai and transferring to our hotel and free time to be at leisure for you after long flight and may go for a stroll in the area around the hotel or we can have an easier city tour if you like. If you arrive in early morning, we may arrange to visit a dairy farm to save some time for the next day if you agree. Overnight 4 star hotel. LD.
22 April --Shanghai / Suzhou / Shanghai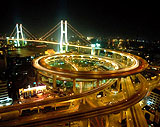 We start at early morning 8:30am, driving about one hour to visit Shanghai Dairy farm, then we drive for 2 hours to Suzhou. After lunch in Suzhou, we take coach for 30 minutes to visit another Dairy farm including its milk processing system in Suzhou. Before driving back to Shanghai, we take boat cruising on canal to view people's daily life for one hour or maybe Suzhou No. 1 Silk Spinning Factory to see how silk is produced from the silk worms and made into the finishes. After dinner in Shanghai, we shall have a short walk along the riverside, the waterfront area of the city known as the Bund. BLD
23 April --Shanghai / Xian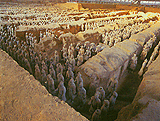 We will fly to Xian in the morning, on the way to our hotel from the airport we visit some villages and peasants' families to enjoy talking with Chinese farmers. After lunch, we take coach to visit to the Museum of the Qin Terracotta Warriors and Horses. This is one of the greatest archaeological discoveries in the world with three exhibition halls, the largest of which is 180 meters by 60 meters, housing the continuing excavation of an army of 8,000 terra-cotta soldiers and horses that guard the tomb of Qin Shihuang, the first emperor of the unified China. It is a stunning exhibition of ancient artifacts that is well laid out and easy to view. Evening Tang Dynasty Show with dinner. Overnight 4 star hotel BLD
24 April -- Xian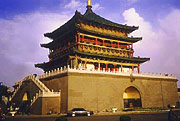 We drive for about two hours to Shanxi Agricultural High-tech Industries Demonstration zone, a state-level agricultural high-tech demonstration zone, covering an area of 94sq km with population of 140 thousand. This Zone was set up in 1997, especially for demonstrating the best agri-achievements and providing technical and personal support to the development of China's agriculture,which carries out the management pattern of "sientist+corporation+farmers", and depend on the small group to develop a large-scale breeding and reproducing method in order to help and encourage thousands of peasants to be comparatively well-off. Embryo engineering takes leading position in China. Technologies on animal clone, stem cell and crossbreed wheat rank in front of the world. We will visit the Embryo Engineering Laboratory of Sheep, cattle and goats and follows a Technical meeting with local agricultural experts, officials, marketing people and farmers. Lunch will be arranged in local 3 or 4 star hotel. In the afternoon on the way back to the hotel we will visit some peasants' villages and families. Overnight 4 star hotel in Xian. BLD
25 April --Xian / Hohhot / Overnight Train to Beijing
Morning flying to Hohhot, the capital city of Inner Mongolia, upon arrival we visit a famous Dairy Milk processing system, one of the biggest and most famous dairy production in China including its dairy farm. It has developed more than 100 kinds of different products with different series including liquid milk, ice cream, milk powder, milk tablet and so on… In the afternoon, we have a visit of the Inner Mongolia Animal Husbandry Research Institute to have discussion with experts about Embryo engineering development in China. In the evening after dinner, we will have our first experience to take Chinese first class Express Train to Beijing, K90 21:12pm / 07:22am (first class soft sleeper with 4 berths in one cabin)--Overnight in the Train. BLD
26 April --Beijing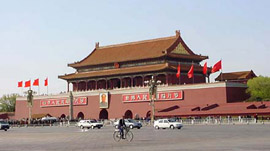 Up on arrival, we drive to our hotel for breakfast and check in for a short happy rest in your comfortable room. Then we drive for about one and half hours to visit Dairy Developing Centre, one of the largest and important stations to provide frozen semen and high technology of embryo transfer and artificial inseminations to dairy farms of all over China. Production of frozen semen annually reaches more than one million. Then we will have a meeting with experts to exchange views. After lunch we visit a Fine Dairy Cow Breeding Farm, a favorable place for Chinese farmers from other provinces to select and purchase good quality dairy cows with reasonable prices from this farm. According to the report, there are more than 10,000 dairy cattle are breezed in different small and big farms in this region. Meet with local marketing people to explain the way how the Chinese farmer from other areas to buy their cows from here. Then we drive back to our hotel. Overnight 4 star hotel. BLD
27 April --Beijing
To take part in The 6th China Intel Dairy Industry Exhibition, we arrange a bus for Round trip from Hotel to Exhibition ground and back to Hotel transfers with guide service. BD
28 April --Beijing
To take part in The 6th China Intel Dairy Industry Exhibition, our bus service from Hotel to Exhibition and back to the hotel transfers with our guide. BD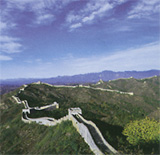 29 April --Beijing
No visit to China would be complete without visiting the Great Wall. Today we make an early start at 8.30am as we travel through the outskirts of Beijing to make our visit to the Great Wall where you have an opportunity to walk along a portion of this 3,700 mile marvel which has a history of more than 2,000 years. The Great Wall was originally built as a defensive fortification by three states in China. It was not until the Emperor Qin Shihuang united all the states of China that all the different sections of the wall were joined together to make it the Great Wall of China as we know it today.
After lunch, this afternoon is free at leisure for you and this evening we have our farewell Evening Dinner Peking Duck and our last meal together of the tour in China. Overnight: 4 star hotel BLD
30 April. Transferring to Beijing International Airport to meet your flight back home.
Including:
1. Domestic flight tickets
2. Train ticket from Hohhot to Beijing
3. Air-conditioned deluxe transportation within the tour
4. Accommodation at international 4 star standard Hotel
5. Three meals as specified in the itinerary except two meals during the Exhibition
6. Full Western Buffet Breakfast at hotel Daily
7. Comprehensive sightseeing & Technical visits
8. Experienced and knowledgeable English speaking tour guides throughout our whole trip and a local guide in each city
9. Bus round trip -Hotel / Fair ground/ Hotel transfers for Exhibition with guide
10. Local Specialties:
Beijing - Peking Duck Banquet
Tang Dynasty Show with dinner
Our quotation does not include:
International airfare
Personal expenses
Tips to guide and driver